Hits: 22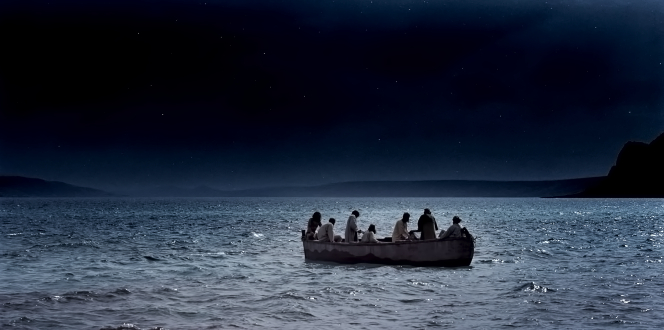 "Simon Peter said to them, 'I am going fishing.' They said to him, 'We will go with you.' They went out and got into the boat; but that night they caught nothing" (John 21:3).
Our Gospel passage this morning concludes with the statement: "This was now the third time that Jesus was revealed to the disciples after He was raised from the dead." This means that before this fishing episode, Jesus had already appeared to His disciples twice. It appears that seeing the Risen Jesus was not enough to convince Peter and the other disciples that their task henceforth was to fish for men.
The failure of these disciples that night became a blessing in disguise. It was important that they failed so that it would become clear to them that they had a more important assignment than the business of catching fish. The last time Peter had this experience, Jesus borrowed his boat to preach during the day and told Peter to let down his nets for a catch. Peter protested saying they worked all night and caught nothing and when he obeyed, he pulled such a large number and they called their partner boat to assist.
This time around, Jesus stood on the beach and called out to them. When he told them to try one more time, they got such a huge catch that Peter once again recognized Divine Providence. John tells us they were a hundred and fifty-three fish. Note that this was the number of the known nations of the world as at that time. It was a reminder to Peter that: "Henceforth you will be catching men" (Luke 5:10).
In today's first reading, we see that Peter is no longer having double minds about his calling. He is not afraid of where the next meal would come from neither is he afraid of speaking directly to the very persons who connived to falsely accuse Jesus and ensure His crucifixion. Peter stood up to address the rulers and elders and scribes who were gathered in Jerusalem concerning the cripple who was cured by the Beautiful Gate.
Peter ended his message by saying: "And there is salvation in no one else, for there is no other name under heaven given among men by which we must be saved" (Acts 4:12). This remains the message for us in this time of uncertainty. Jesus alone is the answer. Let us run to Jesus with faith and confidence and He will not let us down. Let us pray: Lord Jesus, deepen my trust in your Divine Providence. Amen. Bible Study: Acts 4:1-12, Psalm 118 and John 21:1-14).
Do Not Let Anyone Silence You
"Peter and John answered them, 'Whether it is right in the sight of God to listen to you rather than to God, you must judge; for we cannot but speak of what we have seen and heard.' And when they had further threatened them, they let them go, finding no way to punish them" (Acts 4:19-21).
From the very beginnings of Christianity, there has always been opposition to the Gospel message. Our first reading today narrates how Peter and John were practically threatened for preaching in the name of Christ. Even today, the spreading of the Gospel continues to face stiff opposition.
Consider the level of persecution Christians face all over the world today both those we see on media (mainline news) and those happening in the hidden corners of our cities and villages.
Why does the world hate Christians? Jesus answers this question by saying: "If the world hates you, know that it has hated me before it hated you. If you were of the world, the world would love its own; but because you are not of the world, but I chose you out of the world, therefore the world hates you. Remember the word that I said to you, 'A servant is not greater than his master.' If they persecuted me, they will persecute you; if they kept my word, they will keep yours also" (John 15:18-20).
Even though the world hates us, Jesus is quite clear with His mandate: "Go into all the world and preach the gospel to the whole creation" (Mark 16:15). How do we go into a world that does not want us? How are we to enter into enemy territory without hating them and still win them for God?
How do we influence with Christ without ourselves becoming submerged in the world? This is the mission of the Christian today. No wonder Jesus said: "Behold, I send you out as sheep in the midst of wolves; so be wise as serpents and innocent as doves" (Matthew 10:16). Wisdom must go side by side with innocence (purity of heart).
Our world today needs men and women like Peter who is not afraid of proclaiming the truth with boldness and determination. Men and women who are never discouraged regardless of the resistance they face to the Gospel of Christ. Men and women who preach not just with words but with their very lives in a way that will positively affect the lives of people living in darkness. Do not let anyone silence you. Let us Pray: Lord Jesus, use me as your instrument of evangelization. Amen. Bible Study: Acts 4:13-21, Psalm 118 and Mark 16:9-15).
Fr. Abu