Hits: 34
The global coronavirus count has just surged past three million, according to newly released statistics by Johns Hopkins University. The US, with nearly one-third of all Covid-19 infections, still remains the hardest-hit country. The number of registered cases of Covid-19 around the world stands at 3,002,303 as of Monday, April 27, according to the database maintained by the Baltimore, Maryland-based university. The global death toll has risen over 208,100.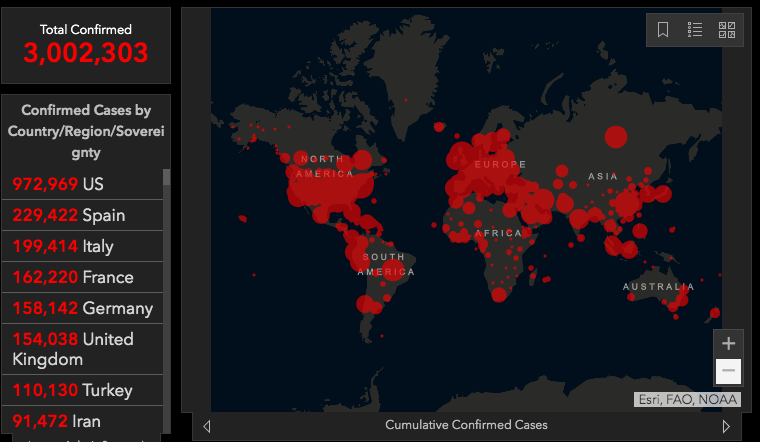 © Johns Hopkins University Coronavirus Resource Center
Nearly a third of those confirmed coronavirus cases are in the US alone, along with just over a quarter of total deaths, at 54,938. This is both more cases and more fatalities than Italy and Spain – the two European countries that were hardest-hit by the outbreak last month – combined. Italy has recorded 199,414 cases and 26,644 deaths to date, while Spain has hit 229,422 cases and 23,521 fatalities. China, where the virus was first registered in November 2019, has officially reported only 83,912 total cases and 4,637 deaths.
The World Health Organization declared a pandemic on March 11 over the novel coronavirus outbreak. Since then, more than half of humanity has been placed into some form of lockdown in order to combat the spread of the pathogen. Officially named 'severe acute respiratory syndrome-coronavirus-2'(SARS-CoV-2), the virus is believed to be far more contagious than the ordinary influenza. In its most severe form, it can cause pneumonia and is more likely to be fatal among the elderly and those with pre-existing medical conditions. (RT)