Hits: 275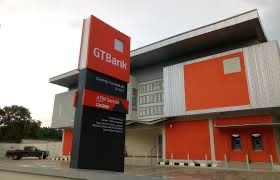 By Achadu Gabriel
Guaranty Trust Bank (GT bank), Kaduna branch, located at the popular Murtala Square, has been shutdown.
The bank's computers, electricity generator and other valuables have also reportedly confiscated Wednesday evening by people accompanied by armed agents suspected to be Nigerian Police.
Eyewitness said the people assumed to be acting on the order of a court invaded the bank around 4:00pm and shutdown it down Wednesday evening and allegedly took away what seemed to be some of the bank's valuables.

Simultaneously, the bank's branch in the Central Market area was also completely cash trapped as all the customers including our correspondent who went to the bank to withdraw from their ATM left there disappointingly.
A private security guard (name withheld) however confirmed to our correspondent that the bank was out of cash at that particular time, when asked.
Contacted for clarification, the Kaduna police command spokesman Muhammed Jalige could not respond.
Our reporter who went round on Thursday confirmed from some of the bank staffs in confidence that all Kaduna branch, with issues have been temporarily shutdown.